Restaurant, Bar and Tea Lounge
Welcome to first Tea Lounge in Pattaya.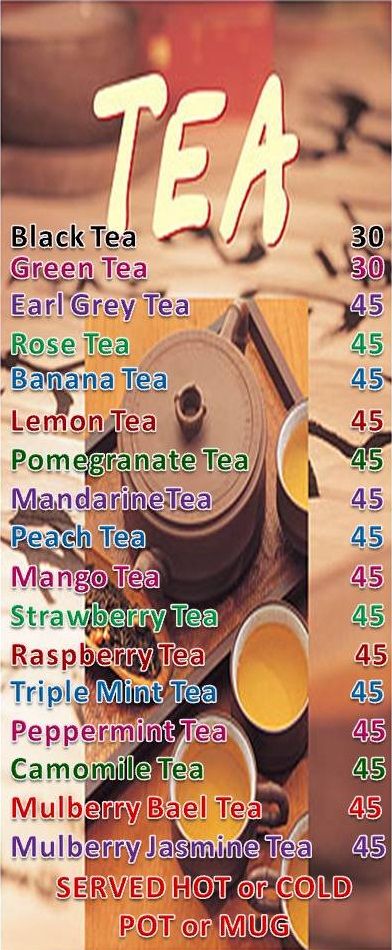 Indulge in delicious European, Italian, Russian and Thai local dishes at our restaurant. Enjoy a drink at the stylish bar whilst relaxing to ambient music. Meet up with friends for dinner or unwind in our restaurant with a freshly brewed cup of tea or coffee.
Our Pattaya hotel has it all, with free breakfast included, you cannot find a better cheap hotel in Pattaya that has the hospitality and homeliness that you would normally expect from a Pattaya guesthouse. Our restaurant prices are also cheap and the best you find in any Pattaya hotel.
We serve scrumptious Western meals such as Steak and Chips and French Fries. If you are in the mood for Italian, try our rich Pasta dishes, such as our Penne Marinara which is jam-packed with the freshest local seafood.
If you fancy an authentic Thai dish, you have come to the right place. Try our spicy Green curry or Som Tam Thai Salad. Thai cuisine is renowned for its healthy, fresh produce and our restaurant epitomises this.
This is the best Pattaya hotel to kick back, relax and enjoy fresh, spicy, tantalizing dishes just outside your Pattaya hotel room.
You don't have to walk far to enjoy a selection of hearty Russian dishes or a sandwich if you are on the run.
Enjoy a hot cappuccino, tea or iced coffee or indulge in our selection of desserts at our Pattaya Hotel's Restaurant.
This is a SEO version of
Restaurant Page 2
To view this content in Flash, you must have version 8 or greater and Javascript must be enabled. To download the last Flash player
click here
FlippingBook Gallery Component. Demo version.
Page flip
flash gallery for Joomla.